Richardson Paintless Dent Repair
Your vehicle is precious. Sure, it's how you get from A to B, but it's more than just a box on wheels. It's valuable. It's cherished. You take care of your car. But, inevitably, the worst can happen – your vehicle can fall victim to a hail storm, leaving your treasured transport riddled with pock marks from those deadly and damaging pieces of ice. Fortunately, you can get your vehicle back to its original state in a jiff. With dent repair services from DMG | PDR, your vehicle body can be repaired, returning your auto to its former glory. DMG | PDR provides paintless dent repair for vehicles here in Richardson and throughout much of Texas.
What Is Paintless Dent Repair (or PDR)?
Paintless dent repair is a unique solution to the dents that have marred to surface of your vehicle. Paintless dent repair is, you guessed it, a repair that doesn't require a fresh coat of paint. That means huge savings for you, and a faster repair. Plus, it doesn't mean that you'll have to sacrifice quality – paintless dent repair leaves your car without a spec of damage. Now, the possibilities of paintless dent repair are a bit limited. If a dent does leave the metal of your vehicle body exposed, you'll need to have your car painted for a full repair.
Why Choose DMG | PDR?
Paintless dent repair is faster and more affordable than other dent repair options and bodywork, especially if you work with DMG | PDR. We provide free estimates, and we'll cover the deductible on your car for up to $500. That may mean that you won't have to shell out a dime as long as your insurance covers part of your repairs. Beyond that, we'll even pick up your vehicle and drop it off, and we can provide you with a vehicle while you wait for your repair. We understand that hail damage is inconvenient and unexpected. That's why we strive to provide reliable, swift repairs and incredible customer service. We provide dent repairs for both steel and aluminum vehicle bodies.
When Weather Strikes
Texas is, unfortunately, smack dab in the middle of hail country. The Lone Star State experiences the most damage by dollar out of all of the states in the country. Some parts of Texas encounter more than eight significant hail storms per year. That means a whopping amount of property damage, including plenty of damage to exposed vehicles. So, when weather strikes, you can count on the paintless dent repair services of DMG | PDR.
---
DMG | PDR Provides PDR in Richardson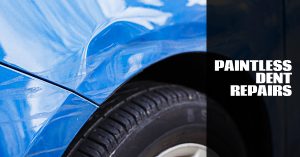 DMG | PDR provides paintless dent repair services throughout Texas, including Richardson. Let us come to you to provide fast, precise repairs on your vehicle. If you're ready to get started, you can get a free estimate for your repair; or, if you're curious about our repair services, feel free to get in touch with us! DMG | PDR is proud to be your Top Rated Local® Texas source for professional paintless dent repair services. Find out the DMG | PDR difference for yourself!