McKinney Paintless Dent Repair
If your vehicle has fallen victim to a hail storm here in McKinney, the repair technicians at DMG | PDR are here to help. We provide paintless dent repair (or PDR) for folks throughout McKinney and the surrounding area. Let's take a look at the details and benefits of PDR, and why DMG | PDR provides unparalleled service.
What Is Paintless Dent Repair?
Unlike painted dent repair, paintless dent repair can be performed without the need of a fresh coat of paint; that makes PDR a far cheaper, more efficient option for those who've been affected by a hail storm. With most hail damage, those pesky balls of ice only throw a small ding into the body of your car; the paint layer stays intact. That's good news. With specialized tools and honed techniques, we can cautiously force the dents on your vehicle back into their original position and shape.
Why Choose PDR?
Paintless dent repair is easier, faster, and less expensive than other repair options and body work. If PDR is an option for the damage that has occured on your vehicle, it's an obvious choice. Unlike other options, paintless dent repair simply returns your vehicle to its original look. No new body components. No new paint. Simply the original, smooth look of the vehicle.
When Weather Strikes
Texas weather is unpredictable and treacherous. In some counties throughout the Lone Star State, significant hail can strike over 10 times in a year. Plus, hail balls can easily exceed an inch in diameter. That makes our state a huge target for hail damage; in fact, hail causes the most damage by dollar in Texas over every other state. When hail strikes, it's best to stay in your vehicle or home. Don't attempt to move your vehicle in low visibility, and don't attempt to move your vehicle out of harm's way. Stay safe inside a structure or inside of your vehicle. And remember, with most hail damage, paintless dent repair is an easy, affordable option. Don't risk your safety to save your car.
---
DMG | PDR Provides PDR in McKinney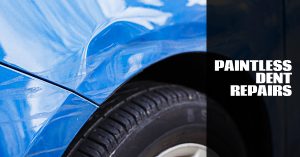 DMG | PDR provides unbeatable service for folks with hail-damaged vehicles throughout the McKinney area, and much of Texas. If you're looking for dent repair, we're the company to count on. Not only are our repairs precise, our turnaround time is amazing – usually just a few days. Beyond that, we can pick up and drop off your vehicle if you'd like. And we can provide you with a vehicle for the interim as we repair your hail-damaged automobile. Best of all, we'll cover up to $500 of your deductible, so your insurance company will have to cover much of the bill. That's a deal that you won't find anywhere else. At DMG | PDR, we provide paintless dent repair for both steel and aluminum-framed vehicles. If you're further curious about our paintless dent repair services, feel free to check out our PDR page; or, if you'd prefer, feel free to get in touch with us. You can also get started with a free estimate for your vehicle.