Addison Paintless Dent Repair
Hail is an unruly force of nature, and it can cause horrific damage to property, homes, and vehicles. And unfortunately, hail strikes often here in Addison, Texas. Fortunately, however, there is a solution (at least to the latter problem), paintless dent repair. Paintless dent repair (or PDR) is a technique utilized to return a hail-damaged vehicle to its former glory. Here at DMG | PDR, we provide paintless dent repair solutions for hail-damaged cars, trucks, and automobiles throughout Addison and the surrounding area. Let's delve into the details of paintless dent repair:
What Is PDR?
Paintless dent repair is a simple solution for most minor dents, including dents caused by hail damage. With most vehicle hail damage, the hail ball will simply leave a dent on the surface of the body of the vehicle; the paint itself is still intact. With paintless dent repair, those dents are pressed back out to the original shape of the vehicle's body. No paint is necessary since body paint won't crack or chip when properly repaired. Paintless dent repair is an option for both aluminum and steel-bodied vehicles (although it takes more time to repair aluminum-bodied vehicles).
Why Is PDR the Best Solution?
When it's possible, paintless dent repair is a far better solution than other forms of bodywork. PDR is faster and more affordable than other repair techniques, and it provides a pristine result. Take note, however, that paintless dent repair is only a viable option if the paint of the vehicle is completely intact. If damage leaves metal exposed from your vehicle's body, you'll have to repair your vehicle through other means. PDR is the best solution for most hail damaged vehicles. We'll use specialized tools and expert techniques to reform the body of your vehicle. Our goal is to return your vehicle to the exact body shape it had before that nasty hail storm. No more dents. Just a smooth, glossy vehicle surface.
---
The DMG | PDR Difference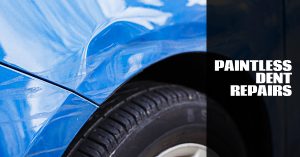 There are plenty of outfits that repair dents. However, DMG | PDR provides superior service, a better result, and unbeatable convenience. We value the work that our clients provide us, and we do our utmost to leave each customer impressed with our quality service. Our repairs are pristine; your vehicle will look just as it did before hail struck. Curious about our convenience? How about this: We can pick up and drop off your vehicle to perform repairs. Plus, we can provide you with a vehicle to use during repairs. Best of all, we can help you with the cost! We'll cover up to $500 of your insurance company's deductible, so that you aren't stuck with the full brunt of the bill. Still want proof that we're the best source for hail dent repair? Check out some testimonials from our previous clients. Ready to get started? Feel free to get in touch with us to get a free estimate! Find out the DMG | PDR difference for yourself, and return your car back to its former beauty!